Our Current Team
Carol Newell, C.M.
Founder, Funder, President of Renewal Partners
Investor by circumstance, innovator by nature, Carol Newell's life work has been to create programs and organizations that seed new thinking about our relationships with social, natural and financial resources. In the early-90's she dedicated an inheritance with a goal to build a culture that prioritizes the health and diversity of natural systems. Her private family office, Renewal, implemented a strategy to deliver mission-focused, cross-sector, blended-values capital to a region via Endswell Foundation, Renewal Partners seed capital fund, and additional personal capital.
In 2004, Carol founded and co-created Play BIG to help others boldly activate wealth. Her most recent project ReWeaving Wealth, is a nimble process tool designed to help people integrate and mobilize decisions, creative thinking and resource activation. She has received numerous awards and was appointed a Member of the Order of Canada in 2007.
Nancy Bradshaw
Director of Activated Assets and Operations
Nancy brings her passion and experience in social innovation and environmental regeneration. She has held executive roles the non-profit sector including Board Chair, Executive Director, Director of Fundraising and Communications and has been on numerous Boards and Advisory Boards. She has founded/co-founded four non-profits.
She is an award winning entrepreneur with extensive experience in the business sector as a socially and environmentally responsible leader. Nancy enjoyed senior roles in the tech industry including Director of Business Development for Western Canada of a rapidly growing tech company.
Jill Gagnon, CPA, CA
Controller
Jill is Controller for Renewal Partners, Renewal Land Company and Endswell, having joined the team in 2011. A CPA, CA with over 25 years of Controller experience in a variety of businesses, Jill has over 13 years of experience working with local sustainable businesses.
Nathalie Bastien, CPA, CGA
Bookkeeper
Born and raised in Haiti, Nathalie became a Canadian citizen after moving to Montreal when she was 18. Twelve years later she made Vancouver her home. A CPA, CGA who's worked in accounting for over 15 years, she adds "Although I'm a numbers person, there is a lot more to me than meets the eye!"
James Morrisey, FCA, FCPA
Sr. Financial Consultant
James (Jim) Morrisey has served as Sr. tax and financial consultant for Carol since 1984 and for Renewal since its origin, serving on Endswell first board in 1991, and advising until present. A recently retired Senior Partner of Ernst & Young where he led the Canadian firm's Tax Knowledge Network and was CEO of its Electronic Publishing subsidiary, Jim is a member of the Institute of Chartered Accountants of Ontario and The Institute of Corporate Directors. In the community, he currently serves on numerous boards.
Louise Solomon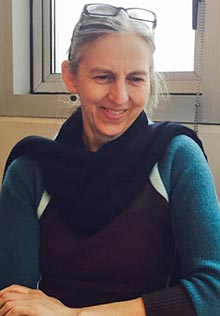 Executive Assistant, Property Manager, 20 years until 2020
Louise began work with Carol as Personal Assistant and Property Manager in 1999, and in 2010 moved into the role of Executive Assistant. She wore more hats that can be counted, kept us all on track with a solid grasp of Renewal's long history and the context within which the work developed. So many have commented on her gracious communication. Louise was known for her sharp mind, a great sense of style and design, and her quick laugh. It's just too quiet now. We lost Louise to cancer in early 2020, and she is profoundly missed by all who knew her.
1994 to 2010
A few years after receiving a substantial inheritance (1991/92) Carol Newell invested in an unusually strategic, bold, and creative team, led by her visionary business partner, Joel Solomon, to implement a model she called "whole-portfolio activation to mission". The objective was to take her wealth to its greatest capacity to stimulate change.
Joel Solomon, with Martha Burton and many others, began to implement Carol's vision to activate her capital to promote regenerative practices in business, philanthropy, and decision-making by finding and supporting those on the ground doing the work and infusing capital so they could flourish. Out of this grew Renewal: Renewal Partners, the Endswell Foundation, Renewal Land and a tapestry of unprecedented interconnectivity, including breakaway legacy entities Renewal Funds and MakeWay.
The majority of Carol's mission funds were deployed in our first two decades. With gratitude to the entire team that were part of the journey to 2010, a few key people listed below deserve special accolades. So many others' effort and dedication made this body of work possible.
Founding Team and Executive Consultants
Our profile as it was in 2010, with a few current updates.
Joel Solomon
Renewal Partners co-founder, Joel is now Chairman of Renewal Funds.
Joel serves as a Senior Advisor with RSF Social Finance and speaks frequently throughout North America, including a 2012 TEDxVancouver talk. He is a founding member of Social Venture Network (SVN), Business for Social Responsibility (BSR), MakeWay, and is board chair of Hollyhock.
From 1994 to 2010, Joel managed the Family Office activities of Carol Newell as President. Together, they pioneered an integrated use of capital for social impact that is now growing as a strategy for deep mission investors.
Joel has received a Lifetime Achievement Award from SVN and was recently inducted with Carol Newell into the SVN Hall of Fame.
Martha Burton
Martha served over the years (1995-2010) as Controller, Director of Operations, and Senior Vice President of Renewal Partners. Martha played a key role as an advisor and consultant, and as the director or senior support for numerous special projects including Renewal Land's model for forest conservation on private land, Play Big and the interior re-build of the Flack Building.
Martha served on the Executive Board as Treasurer for Vision Vancouver Electors Association; sharing Vision's commitment to lead Vancouver toward a new future with solutions to end homelessness, while building a green economy.
Martha is a founding member of Nashville's Women in Commercial Real Estate (WCRE) and Social Venture Network (SVN); a member of Association of Women in Finance and Women's Executive Network (Vancouver chapters), as well as the Non-profit Centers Network.
Paul Richardson
Paul is the CEO of Renewal Funds, an early stage capital fund (founded initially as Renewal2 in 2009), structured to deliver superior financial, environmental, and social returns. For five years Paul was Vice President and in-house counsel at Renewal.
Paul's work with Renewal Partners (2005 – 2009) was focused on supporting its diverse portfolio of socially responsible companies and analyzing new investment opportunities from mission aligned businesses.
A large portion of his work at the Endswell Foundation was leading financial negotiations in support of land use decisions for Canada's internationally significant 21 million acre Great Bear Rainforest Agreement—at the time recognized as the largest and most significant integrated conservation program in North American history.
Pamela Chaloult
Pam was Managing Director for Renewal, (2006 – 2012)
Pam was Co-Convener of Social Venture Institute at Hollyock from 1998 – 2012. Previously, Pamela served as Co-Executive Director of Social Venture Network (SVN), as Communications and Marketing Director for California Institute of Integral Studies (CIIS), and Communications Director for Planned Parenthood. Before joining the non-profit sector, she led the marketing and advertising efforts for the CBS affiliate KPIX TV & Radio and for a variety of film and entertainment groups in Los Angeles.
Pamela is a member of the Women's Executive Network, the Association of Women in Finance, Social Venture Network and sits on a variety of social purpose boards across North America.