200 - 163 West Hastings St. • Vancouver, BC • V6B 1H5 • Canada
Contact: Renewal • 1-604-844-7474
GORGE WEST PROPOSAL
RLC's Gorge West proposal encompasses one 32-hectare property, bounded on all sides by private land. Whaletown Road provides access to the property in the south-western corner. The forest is dominated by mature second-growth Douglas-fir, with some western red cedar, pine and western hemlock. There are three wetlands and several small streams on the property.
RLC has applied to rezone this property to Forest Land Stewardship to allow a maximum of 6 strata lots, as well as conservation, selection logging, public trails and parkland.
Click here
to see a map of the proposed site design.
We hope to complete the rezoning process by the end of 2004 and have strata lots available by summer 2005.
Forest Conservation Areas
RLC's goal is to protect biodiversity and the forest ecosystem. The Gorge West proposal includes a large Forest Conservation Area that covers roughly half the property, the use of which will be governed in part by a conservation covenant, held by The Land Conservancy of BC.
Public Trails and Parkland
Another goal for RLC is to promote public access, as appropriate, on suitable private lands. Public access will be encouraged on this property through the creation of a public trail within the Forest Conservation Area.
Residential Use Areas and Residential Conservation Areas
RLC is currently seeking a rezoning that will permit the creation of up to six residential strata lots under a bare land strata subdivision. Conservation covenants will prohibit the future creation of any additional lots. Proposed strata lots are clustered in order to minimize the ecological impact on the land, make use of existing road infrastructure, spread the concentration of population around existing neighborhoods and infrastructure and minimize fragmentation of the Forest Conservation Area.
Each strata lot will include a maximum 0.8 hectare (2-acre) Residential Use Area in which residential clearing, residential dwellings and outbuildings, and associated residential activities will be permitted. Residential Use Areas will have a minimum 15-metre setback from lot lines and roads in order to increase privacy for landowners and reduce the aesthetic impact for existing neighbours. The remainder of each strata lot will be designated as a Residential Conservation Area.
The chart
below
summarizes the Gorge West proposal.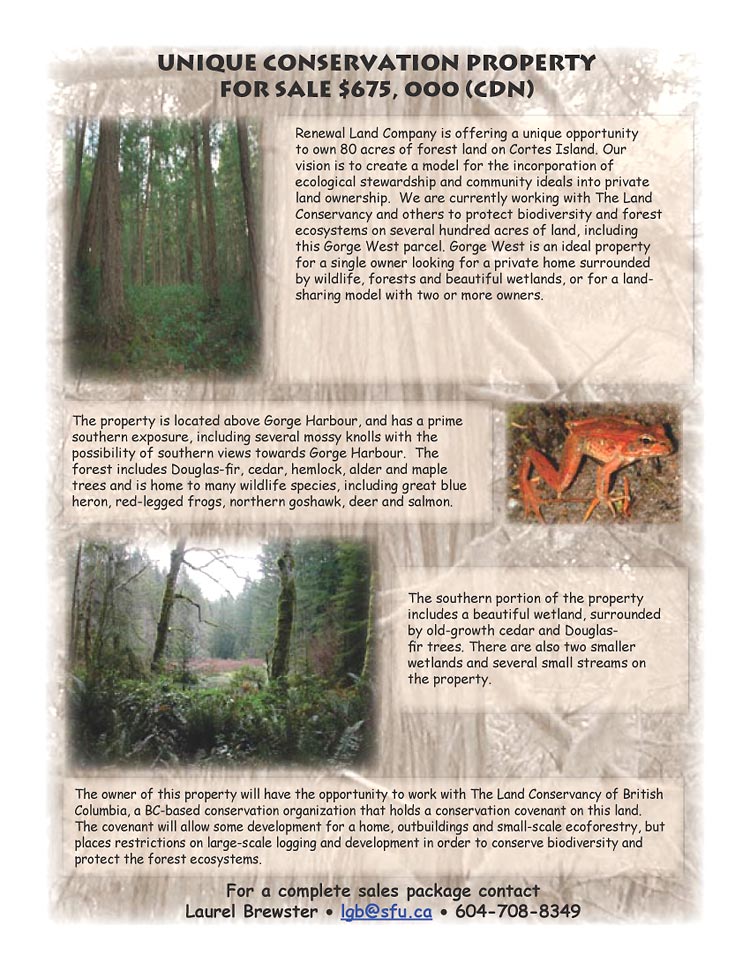 Summary of RLC GORGE WEST SITE PLAN: April 29th 2004 Draft
The following numbers are associated with the DRAFT GORGE WEST REZONING PROPOSAL MAP
Proposed Forest Land Stewardship zoning, Lots 1-5 on attached map
above.
(80 acres)
PUBLIC TRAILS

FOREST CONSERVATION AREA

RESIDENTIAL USE AREA

RESIDENTIAL CONSERVATION AREA

PRIVATE ROADS

SIZE: HECTARES (ACRES)

Public trail within FCA

23
(56)

4
(10)

5
(12)

0.8
(2)

PERCENT OF TOTAL AREA

n/a

71

13

15

1

MANAGEMENT

Recreation and public access

Conservation

Residential use

Selection logging and conservation

Private access

NOTE: All figures are approximate. Land has not been surveyed.
| | |
| --- | --- |
| | Quick Links to Renewal Properties |